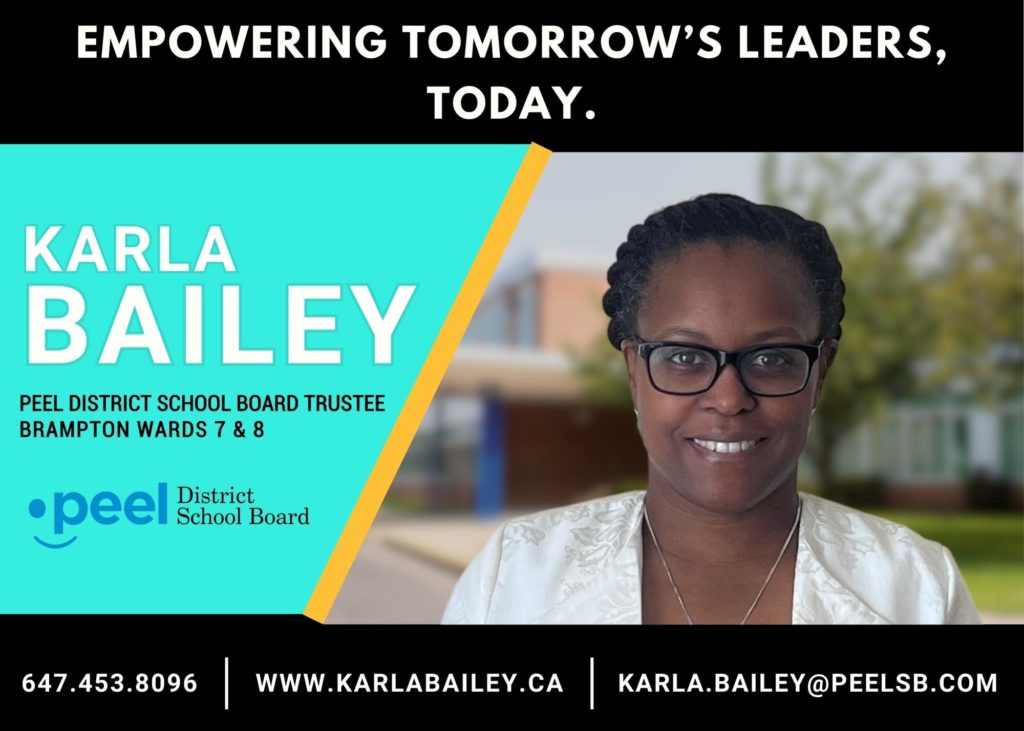 I am thrilled to welcome you to the latest edition of the Trustee Karla Bailey Newsletter. As your dedicated Peel District School Board Trustee, I am committed to keeping you informed about the important developments, achievements, and opportunities within our school board.
Our educational community is more than just a collection of schools; it's a thriving ecosystem where students, parents, educators, and community members come together to shape the future. This newsletter serves as a bridge, connecting us all, and I hope it will be a valuable resource for you.
In each issue, you can expect to find:
Updates on Board Initiatives: I will keep you in the loop about the latest programs, policies, and initiatives happening in our school board. From curriculum enhancements to student wellness
initiatives, we are working hard to provide the best educational experience for our students.

Spotlights on Student Success: Our students are at the heart of everything we do. I will showcase their accomplishments throughout the year, whether it's academic achievements, artistic talents, or athletic victories. We are proud of their growth and celebrate their successes.

Community Engagement: Your input matters. I will highlight opportunities for community engagement, such as town hall meetings, surveys, and forums, where you can share your ideas, concerns, and feedback with the board. Together, we can make our board even stronger.

Educational Resources: Discover helpful tips, resources, and tools to support your child's education at home. I will strive to provide information on academic support, scholarships, and extracurricular activities to enhance your child's learning journey.

Upcoming Events: Stay informed about upcoming events, including school board meetings, open houses, board-wide celebrations and critical dates. I encourage your participation as we build a vibrant educational community.

Stories from the Heart: Our board is full of inspiring stories that demonstrate the power of education. From heartwarming teacher-student connections to tales of community resilience, I will share stories that remind us of the positive impact of public education on our lives.
I believe that a strong partnership between our schools, families, and the broader community is the key to success in education. With this newsletter, I aim to foster transparency, communication, and collaboration.
Thank you for entrusting us with the education of our future leaders, and I look forward to working together to create a brighter tomorrow.
2023-24 Newsletters
September 2023 – IMPORTANT DATE: Leadership By Design deadline

October 2023
November 2023
December 2023
January 2024
February 2024
March 2024
April 2024
May 2024
June 2024
September 5, 2023 – Start of the school year
September 22, 2023 – Professional Activity Day ~ Elementary Reorganization / In-school Professional Learning 
October 6, 2023 – Professional Learning Day ~ Provincial Education Priorities
October 9, 2023 – Thanksgiving Day
November 24, 2023 – Professional Activity Day ~ Reporting to Parents
December 25, 2023 – January 5, 2024 – Winter Break (inclusive)
January 22, 2024 – Professional Activity Day ~ Assessment, Evaluation and Report Card Writing Day
February 19, 2024 – Family Day
February 16, 2024 – Professional Learning Day ~ Provincial Education Priorities
March 11 – March 15, 2024 – Spring Break (inclusive)
March 29, 2024 – Good Friday 
April 1, 2024 – Easter Monday
May 17, 2024 – Professional Learning Day ~ Provincial Education Priorities
May 20, 2024 – Victoria Day
June 10, 2024 – Professional Activity Day ~ Assessment, Evaluation and Report Card Writing Day
Sign-up for the Newsletter